This Guy Seems to Be a Real Drop Shipping Expert – $3,500 in 45 Days!
Meet Mousslim. He's 20 years old. He lives in a small town in France. After leaving the school he didn't go to college and started working at once. Mousslim used to work in a restaurant until recently. This guy calls himself a drop shipping expert and a tech lover. His hobby is all things about IT and entrepreneurship.
When Mousslim was younger, about 15 years old, he was doing drop shipping without even knowing such a word. He started buying mobile phones, accessories and other digital wares from China and reselling them on eBay. He received goods at home and sent them to his eBay clients. And one-day Mousslim realized that he could send the wares Chinese suppliers straight to his customers. It would save his time and money, and make simplify logistics much simpler.
So Mousslim started to use drop shipping model. One night he was searching "drop shipping" in Google and stumbled into a forum thread about AliDropship. There one guy described his drop shipping journey with the famous Chinese website. He used a special solution for drop shipping stores, AliDropship Plugin, and had great success in this business.
Bang! Mousslim understood that his life would never be the same. It was exactly what he was looking for. He found the Holy Grail!
Of course, anyone can carry on a drop shipping business without this plugin, like Mousslim used to do. But with AliDropship Plugin anyone can launch a WordPress-based store quickly and easily. It automates many processes, such as adding stuff to your site directly from AliExpress, updating products in your store (their price, availability, and quantity in stock), automatic ordering, reviews import etc. This plugin enables to start selling right on the first day. This was the very thing Mousslim needed.
2 days later Mousslim had a two-week vacation in New York. The guy promised himself: upon the return from America he would get that plugin and test it.
So he did. Now Mousslim was able to import product from AliExpress by one click. Some people prefer a full package option and order a custom website, but Mousslim created his website himself.
Choosing Niche: Follow Your Heart
First, he launched a niche he was not fond of, and it was an epic fail. So he formulated the golden rule: no inspiration – no success.
Mousslim recommends selecting a niche on something you love and have an eye for. Otherwise, you risk to give up everything when you meet the first difficulties. It is much more pleasant to retail things that you know well. When a potential client sees your Instagram, he feels if you are just the same fan as he is. You must be sincere and come up with a really interesting offer to get engagement.
So Mousslim thought more carefully and decided to choose a Dragon Ball Z niche. He was a great fan of this anime since the age of 7 and knew all about it. He understands that everyone should watch out for copyrighted products, but he hopes he will not get in trouble. He strikes while the iron is hot!
Mousslim got his first order one day after he had launched his store. He was excited – receiving an order at the very start of your business is quite a rarity. And only 45 days after getting the plugin Mousslim made $3,500!
Marketing Tips
Mousslim is not afraid to experiment. He tries different marketing activities.
For some time he preferred to use Instagram and its shoutouts for promotion. He considered it the best social media to gain reputation and attract traffic.
The first week he used Facebook Ads at 5$ per day, but he reached a very low CPC – 0.01$. So he disabled Facebook ads and used only Instagram for a while. It worked well. 5$ a day for the Facebook ad is too low, so Mousslim is going to try again with a higher budget.
But the most part of his order came from IG shoutouts. He spent 50$ on shoutout from an Instagram influencer of the Dragon Ball Fan Base, and pretty soon he had 1.4K Instagram subs! It was a nice surprise.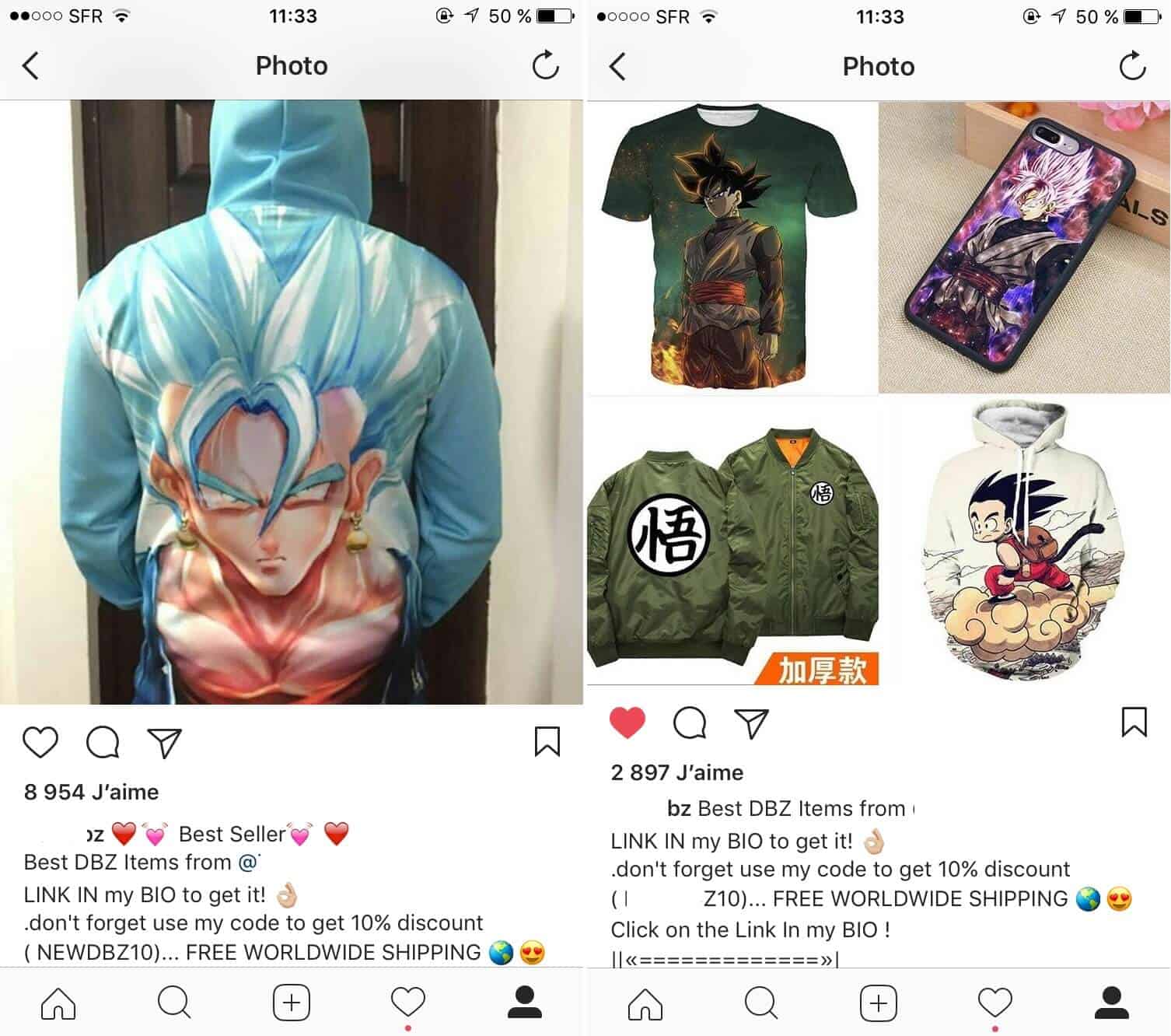 It's good to have many followers, but what is more important – they should be ACTIVE. There are some accounts that have 100K followers and hardly hit 2000 likes per post. So Mousslim recommends to make catchy posts, write about bestsellers known by every fan of your niche.
Mousslim never uses bots or any special plugins to grow his social accounts. He is sure that people feel the difference between bots and real people. That's why he prefers to do it on his own. An Instagram post takes him about 2 minutes.
Later he focused on Facebook ads and Instagram ads. He is also interested in Twitter shoutouts and is going to try this type of marketing soon.
Once Mousslim tried something special with one of his stores. He let that store run with no paid advertising at all! Just 2 posts on Instagram and Facebook per day and some Facebook group sharing. And he broke a record! He got 330$ order from South Africa!
Well, this guy tries things out, but he does his best to stay very active mainly on Instagram. He does shoutouts every week to keep traffic in the account and in the store.
Best Practices by Moussdog
Mousslim has a thread at popular drop shipping forum where he shares his experience and gives useful advice. His nickname here is Moussdog.
The most important thing from Mousslim to all beginners is to launch a niche about something they love. Sincere interest is the best motivator.
The young entrepreneur recommends focusing on Instagram and shoutouts. If you do it right, it can bring you a lot of traffic and sales. Don't be scared to spend money on promotion. It's a great return on investment, and each cent will be justified manifold.
A lot of people send him messages asking to create a store, or give some hints how to get their first sale, and what not. Mousslim can't answer to everybody, so he has made a Snapchat where everyone interested can watch his daily drop shipping routine. Mousslim also launched a gig on Fiverr, because now he can be called an expert in creating fully automated drop shipping websites. He can do everything – from niche research, design customization and all technical matters to SEO, SMM and email marketing.
Things Happen
However, it was not without trouble. For the first 45 days, Mousslim faced a severe challenge. He launched his webstore during the Chinese New Year – he completely forgot about holidays! He was afraid to meet lots of refund request, but luckily all customers received their orders. There was only one refund request on 100 successfully delivered orders.
One day a client made an order for more than 170$ on his store. Later Mousslim found out that this guy paid with a stolen credit card. The fraudster was from India and ordered with an American Express Credit Card. Stripe took back the money and charged Mousslim some fees for that. After facing some fraud issues, now he always checks if the card information matches the shipping address.
Then and Now
Three months after Mousslim launched his first webstore, he reached 17,600$ revenue and officially quitted his job to do drop shipping full time. The first 4 months after launch Dragon Ball Z store brought 24,000$, 17.5K followers on Instagram, and 2K fans on Facebook. After 5 months he got 40,000$. Now Mousslim has got already 22K+ followers. So he doesn't have to ask famous accounts for a shoutout – they come forward.
Now Mousslim has 5 more stores running. It takes him a lot of time to manage them all. He's got sales all over the world, but mostly in the United States. He gets orders every day, and his Instagram community gains about 900-1000 followers per week. Getting $600 in 24 hours is the usual thing for him now. Could he imagine that just a year ago? His 89 dollars invested in the plugin are paid off in spades now!