Important Things To Consider Before You Purchase Canvas Prints Online Of Your Photos
In the past, hiring an artist to have a portrait done of yourself was something that only certain classes were able to afford – it was both time-consuming and expensive, and involved long hours have to sit in front of the painter without getting to move around. These days, you can have hundreds of digital photos taken, choose the one that you like the best, the effects, the background, the colour, the position, and more and store it inside of your digital or mobile camera and then order a canvas print of it online. Affordable, fast, and very easy. However, before you order this kind of print, there are several important factors that you should consider first.
Below we will be discussing some of the most important techniques that are used when canvas prints are printed from photos. Inkjet art is the most popular kind of canvas prints. Large format inkjet printers are used that utilise pigment archival inks to print the photo onto canvas material. It can result in prints with remarkable resolutions with the maximum currently being 2880x1440DPI (dots per inch). This pigment is a specific kind of ink that helps to ensure both colour gamut representation that is stable along with resistance to UV rays as well as other types of external factors such as moisture and dust.
Poly-Cotton or Cotton Canvas?
The cotton can be either a mix of polyester and cotton or pure cotton. A majority of canvas supplies will state which kind of canvas they use on their websites. Pure cotton canvas prints usually are more expensive. Pure cotton canvas dos provide a more natural look for the print, with the texture looking more like a traditional painting. On the other hand, a poly-cotton combination gives a picture a more linen or plastic-like appearance. After the picture has been printed, the material is then varnish and stretched out on the stretcher frame. It is a specific kind of wooden timber frame with wedges in all of the corners so that the canvas material can be re-tensioned (re-stretched) as needed by pushing the wedges towards the corners of the frame. We recommend that you not purchase a canvas print that is just placed on a wooden panel. Make sure to have it framed properly in the traditional way where it is stretched on a wedged timer frame. That will ensure that the print is durable. Otherwise, the canvas might appear too loose after a while and the wedges will need to be able to be re-stretched.   
Which photos are suited to print on canvas?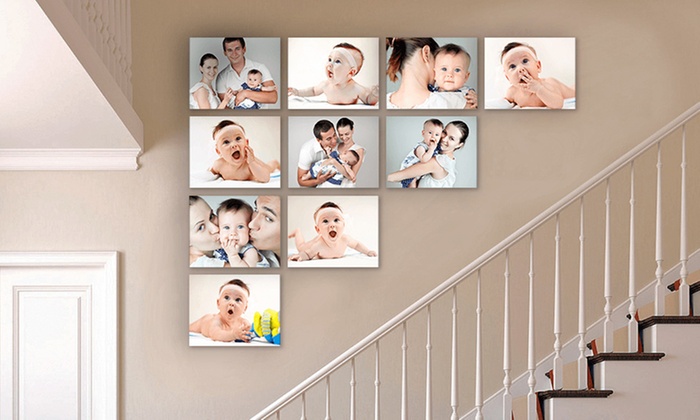 Photo Resolution: A canvas print's quality is directly proportional to your photo's resolution. In general, you should not submit photos that are less than 250KB, since even on 10x10cm prints they might appear 'pixelated.' When you are selecting an online canvas service, be sure that there is a photo checking tool on their website. After you upload your photo, this tool will tell you whether or not your photo's resolution is suited for the size of the canvas you have chosen. If you know what your photo's dimensions are (most Window and Mac systems display that information in the photo properties box), then you will be able to determine the print resolution that will result by dividing the number of pixels in your photo by the number of inches of the size canvas print that you have selected.
For example, if there are 5000 horizontal pixels in your photo, and you want to have a print that is 50 centimeters wide, then the horizontal resolution will be around 5000pixels/20inches=250DPI. To determine the vertical resolution you use the same calculation. On canvas, a print with a resolution of at least 250DPI is a pretty good looking print. The above calculation is representative of true resolution.
However, various software is used by professional printers to enrich lower resolution photos. Several algorithms increase a photo's resolution and enlarge it at the same time through creating pixels artificially. However, the resulting print might present certain patterns such as minor circles or squares.
Resizing or Cropping?  
A reputable online canvas print service should provide you with the layout of the canvas before you purchase it. Since photos can have several aspect ratios (for example, 4:3, 3:2 – the aspect ratio is the number of horizontal pixels divided by the number of vertical pixels), your photo might need to have some cropping done to it. Without seeing what will be cropped by your photo by the designer then you run the risk of not getting the print you want. For example, if your photo has a 3:2 aspect ratio and you choose a 40x30cm canvas, then the photo will need to be either resized or cropped to that dimension. As previously mentioned, when you make your order, the company should allow you to have control and let you resize or crop the photo the way that you want it to look on the canvas. 
Who is taking the risk?
Since canvas prints that are made from your photos are considered to be personalised goods, make sure you check the terms and conditions of the seller that refer to cancellations and returns. Not every seller will print the canvas unless it is damaged. The situation with personalised items is not the same as other products that you purchase online where there is a certain period of time where you can test out the product and then return if you aren't satisfied with it. Simply not liking your print does not automatically give you the right to return it. Carefully read the seller's terms and conditions. Even if they do offer a refund or return if the print arrives faulty, be sure they describe in exact terms what they consider to be a faulty item. For example, if they crop your photo is a different way than what you were expecting, you would consider your print to be faulty. However, your printer might not recognise that as being a fault.